I just watched the DSC camping skate comedy, and I was excited to meet these guys. I always have a sweet spot for people with personality. I already knew Alex Blais the owner, and Gab Jeanson, long time Sherbrooke ripper. I didn't know what to expect from Alex aka "Mini", Dart and Matt, but good times.
Alex Blais aka "Rex" asked me if I was interested to partner with DSC, his second company. Rex is also the creator of the original «Snowskate». Rex is pro AF, and like me, a passionate guy behind the lens. We got along quickly since day one, it was a no brainer to accept it.
He planned to do 6-day premiere tour in Quebec, to showcase his new video « PALEOLITIK ». A video with the Sherby crew and friends.
First date of the tour was in Montreal. We started this early in the morning in hopes to shoot some pictures before the night premiere. The guys were stoked and ready to show off. Cedrik Vigneault, the new blood from Victoriaville, was on the starting block firing from inside. After a quick warm up at the new Rosemont Skatepark we tried to skate some spots around. Mini was fresh with an outfit on point, a Burberry man purse and a Versace scarf, but his fake Supreme boxers were next level.

Gabriel Jeanson – Nollie 180.
The Flat rail
I proposed a flat rail to skate, and a 10 stair, but the guys were quickly turned off. « It`s too high man! » or « too long dude », Dart also added this already famous quote: "It's a square rail, how you are supposed to skate that?". I didn't expect anything on these spots, but I was pretty ambitious to get some cool things on camera.
Gab Jeanson tried a gap that you land in a street full of traffic. After 3 tries, Gab bailed in the street, hit a rolling car with his board, witnessed by the cops in a car right behind. Sesh was over for this spot. At least we ate a super good vegan wrap there.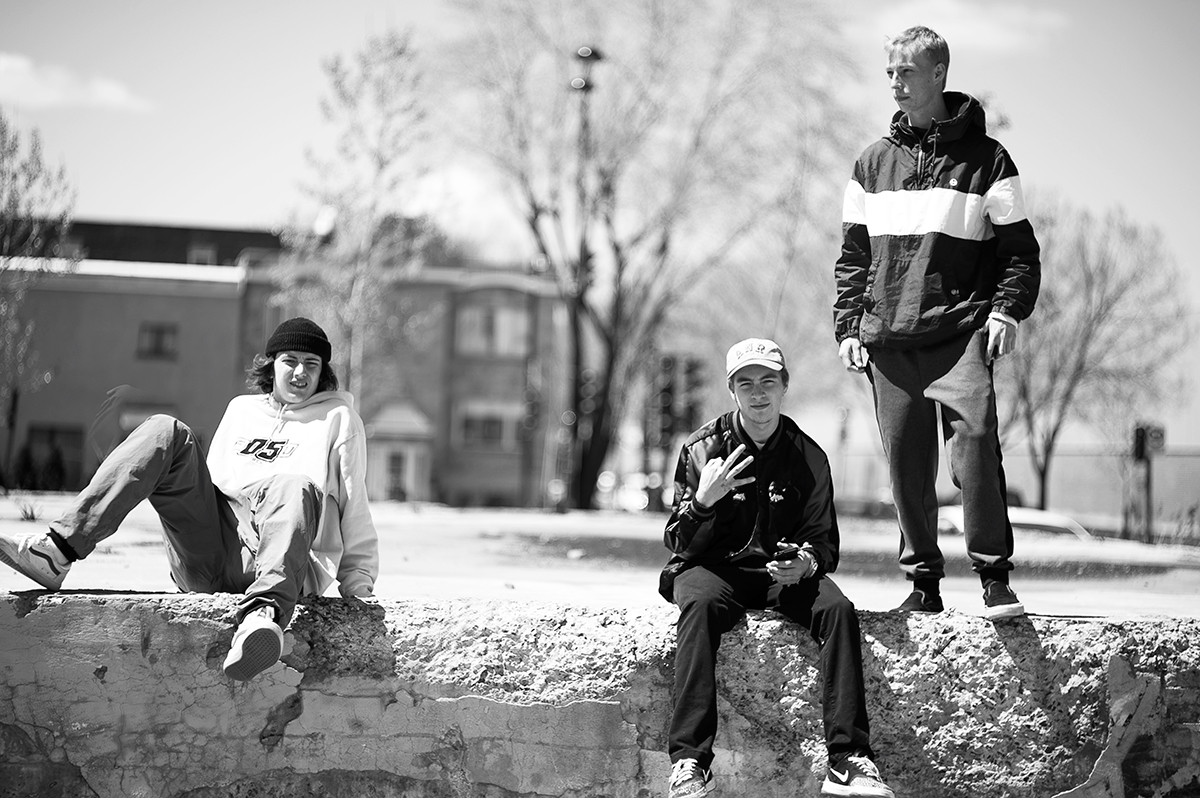 Jay Paré, Alex aka Mini & Matt.
"It's a square rail, how are you supposed to skate that?"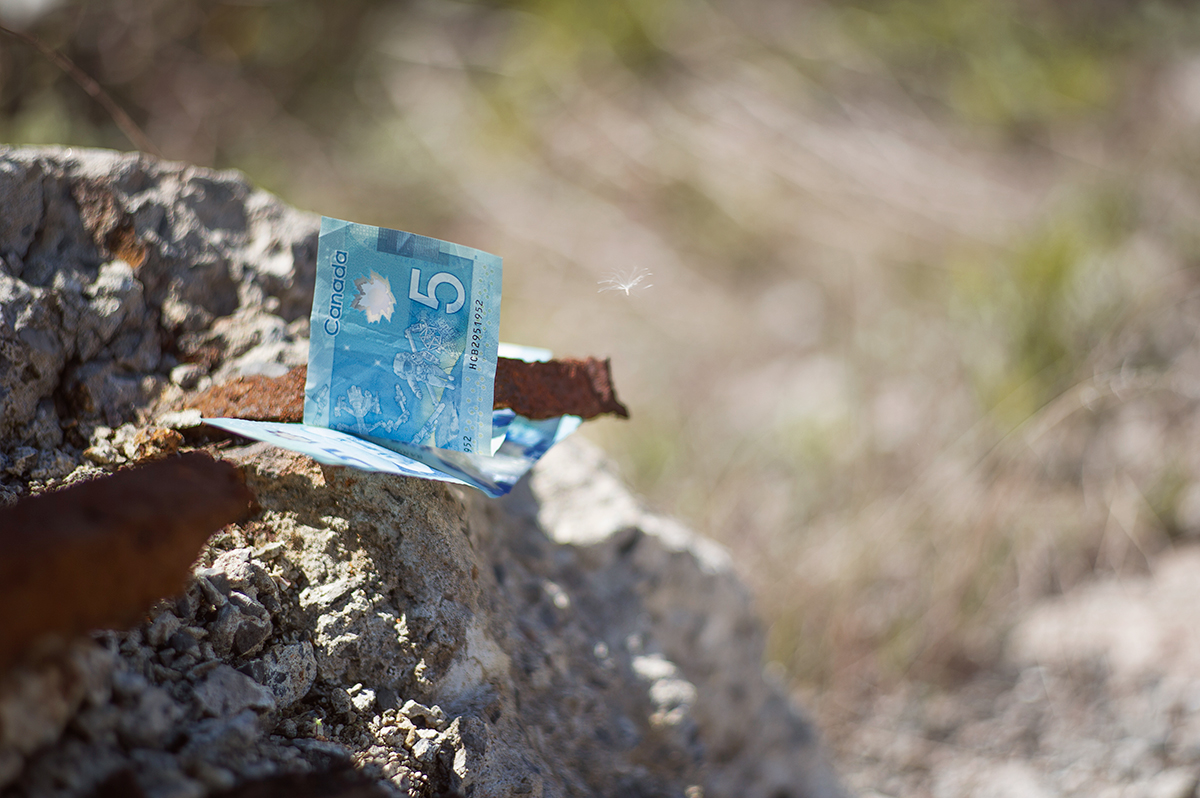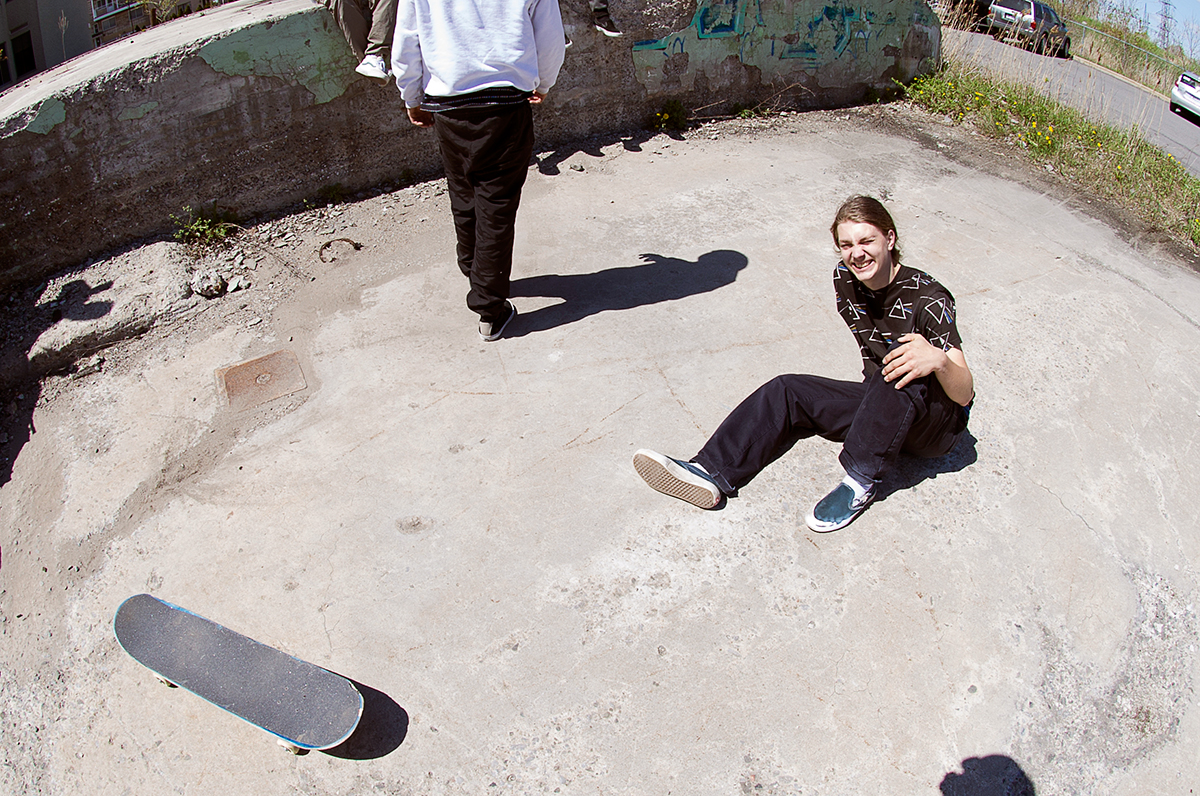 Cedrik Vigneault just won $5 from Paré's wallet.
The dock gap
Next spot, was a dock gap in the east (Thanks Pepper!). Cedrik was hyped, Gab wasn't sure if he had enough energy for the whole day. After a $5 bet, Cedrik did a late shove first try. Jay Paré realized that betting on a pocket trick was a sure debt for his wallet. Gab battled a Nollie half cab, half butt-naked, the first tricks landed this day. Dart, Mini, and Matt left the spot during the Gab battle to smoke weed in Cedrik's non-smoking car.

Matt Lezoraine- Frontside 180 to switch Manny.
The Pipe Fiends
Cedrik asked to go to the ol'famous Big O to film a front feeble gap out, that he did years ago but never recorded. After a very sunny and hot 30 minutes, Ced did it perfectly. This put Mini, Matt and Dart in party mode, or it's cause they finally woke up their minds. The guys were asking to skate the bar to bank at PIE IX, but a car was parked right in the landing. Then we decided to skate the new curb n' bump spot at the stadium. Everybody was finally hyped, or almost. Mini claimed that spot sucked after 10 tries to bluntslide the curb, and Dart didn't last long either after a few back 50-50's. Matt's legs were super sore, but still managed to do a frontside 180 gap to switch manny. I asked him to redo it at least 3 times, I misfired the camera. Shit happens.

Mini the Kid
The Belle Pro'
Gab was not even in the mindset to skate this day, but decided to try an ambitious 4 trick line. Dart, Mini and Matt, that I'll call « the kids » were like, « Oh shit, it's gonna take ages for Gab to do his line ». It was the last spot for the day, and we called lunch at the Belle Province two blocks away. After 10mins of Gab's battle, Mini who forgot his money, was like, « fuck this, let's go eat! » and borrow some cash from Matt. As a senior (or whatever you can call a 40+ year old), I said to the kids to stay together as a family and support their teammate through his pain. They looked at me like I was dumb, but they stayed. Each time Gab would bail his line, the kids went drama and lost their minds. Mini who couldn't wait to eat went alone to get fast food, came back 5mins later and said « dude, seriously Gab will never land it, we should go ». After at least an hour, and a swellbow from Rex the filmer, Gab gave up. But he did land his line, the last trick wasn't landed to his taste though. The kids were happy that he gave up, and ran like animals to the restaurant. At this moment Rex decided to book a second room for him, Gab and Cedrik, to be sure to not have to endure the kids' party mood all night.
Each time Gab would bail his line, the kids went drama and lost their minds.
The TRH-Bar
So here we go, the only bar in Montreal with a kind of « bowl » without flat and not easy specs to skate. Fred Vitu the co-owner is always stoked to see people skating his bar and gives away some beers to the people who were skating, just because he's like that. The bar was packed, with a population of punks to businessmen. I've never understood how these businessmen ended up there, maybe they were secretly punk inside, but too scared to man up to their bosses. Rex started the video, I think people liked it but I can't read minds, so I can't be sure. Few just-turned-eighteen girls were dancing and cheering the DSC kids. The rest of DSC came straight from Sherby to meet us in the bar, Guillaume told us that he almost got killed by a car while he was bombing a hill, he didn't look before bombing, there is not much traffic in Sherbrooke. I had a good time but I had to go home, the next day we were hitting Victoriaville.

Cedrik Vigneault – Front Feeble the door, First T.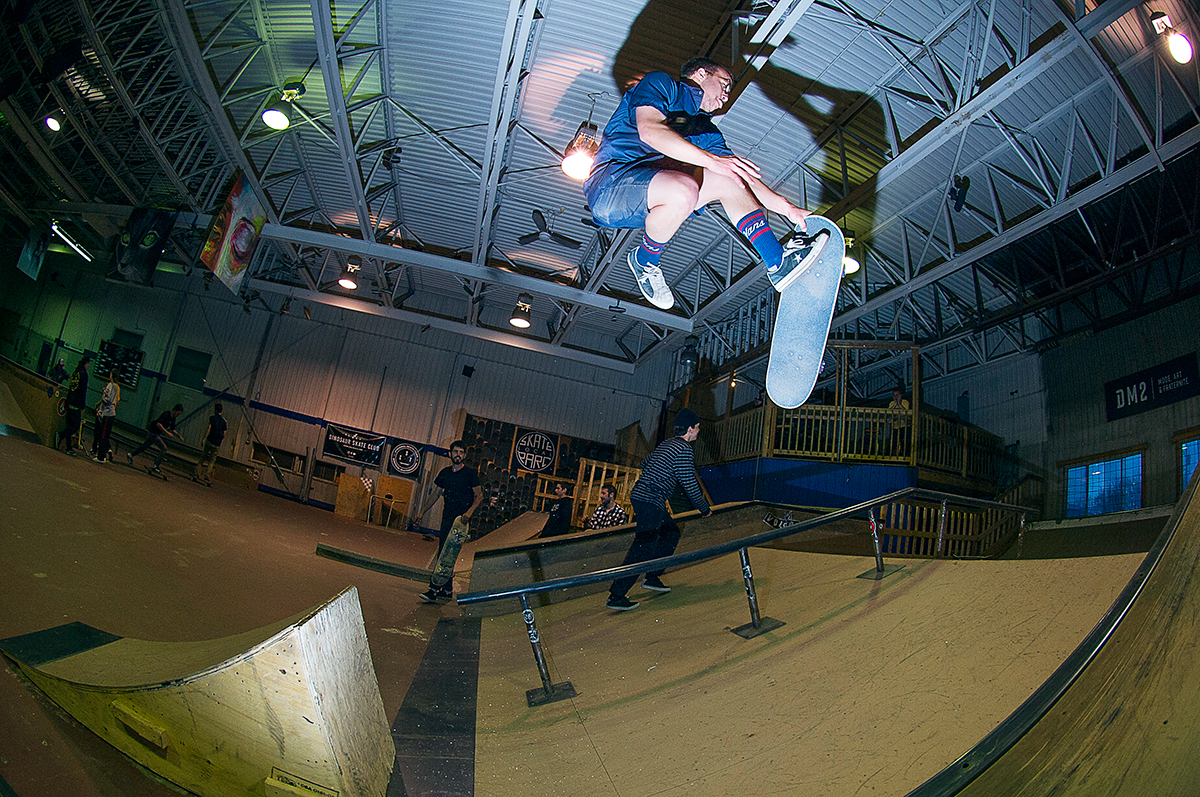 Alex Athot – Airwalk up the gap.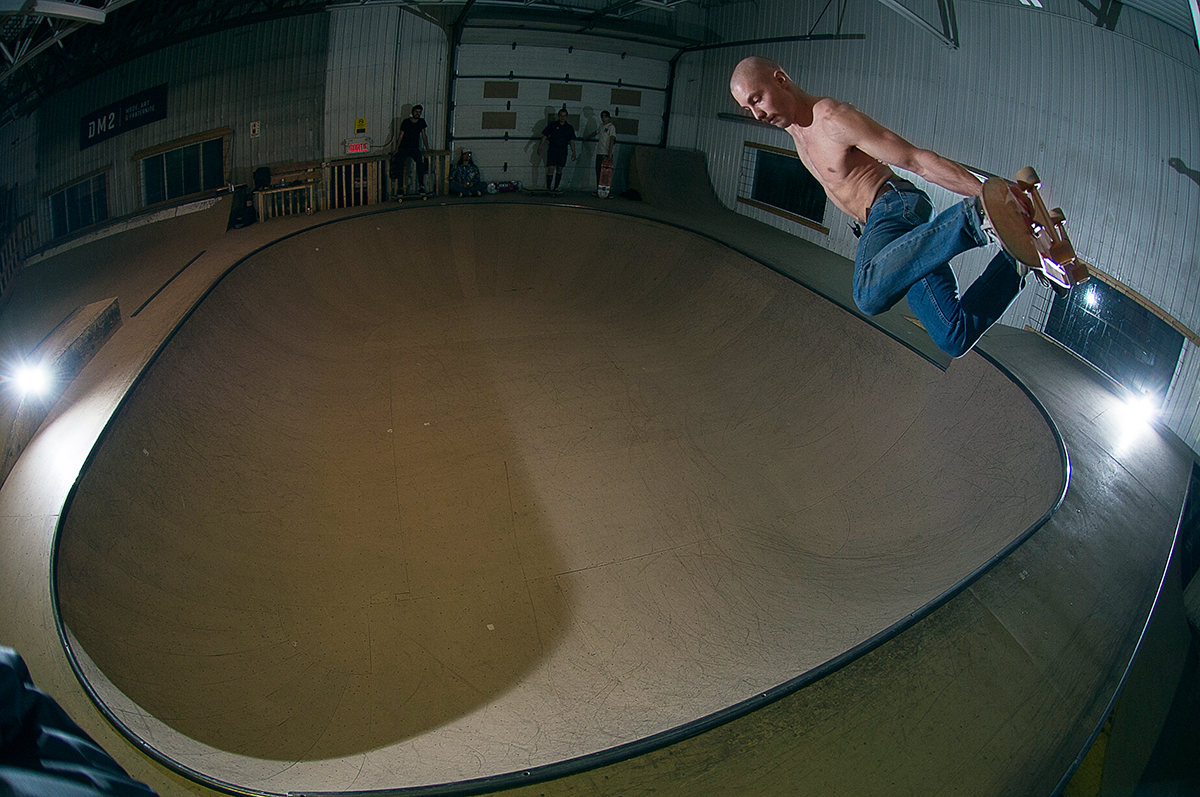 Antoine Boucher – Early grab.
The Local
After a quick drive, I finally got to visit the city of Victoriaville that gave birth to crazy dudes like JT Chagnon and Etienne Deshaies. I was wondering if the Victorian population raised their kids with a kind of magical potion of gnarly-ness.
Our meeting point was « The Local » skatepark. Cedrik with the « kids » came first. With a thick cloud of weed, Cedrik red eyed, and non-smoker, had to drive with these infernal pro beer/weed kids. He was already thinking how he going to explain to his father that he wasn't smoking but it was his friends.
The kids told me that they had a fine of $150 last night at the hotel because they got busted for smoking weed in the room. Or maybe it's because they tried to invite everybody from the bar up to their room, that gave some clues to the hotel's employees.
Rex and Gab were there shortly after. After a quick warm up sesh at the empty park, Mini claimed that skatepark sucks anyway, Dart agreed.

Dart not impressed at all.
The Church out rail
We decided to skate an out rail at a village not far away. The spot was actually the local church, it was Saturday and quite crowded, old people were coming in and out. Plus the church was under construction, that cut the run-up in half. Dart started to complain when he realized that. Gab was once again our man, and started to skate it. Dart even tried to skate for real for the first time after 2 days, but gave up after 15mins and claimed, « If I don't land it third try, it's not worth it ». An old lady started to bother Gab, so the kids took care of her. Not to help Gab land his tricks, but because they love to mess with people around.

Gabriel Jeanson – Boardslide Shove out.
Gab did his trick, we were good. We packed up, got in the car. The kids were still talking to the old lady, still messing with her, and probably trying make her say dumb shit for their instagram stories. The next stop was the Annie's Cantine, for a delicious poutine. But it was jam packed and we waited like 30mins to eat. The kids were infuriated, and ready to give up, claiming once again that place sucked anyway. They quickly changed their minds when the precious food finally came out. Then at the ice cream spot, Mini focused Matt's board just cause he deserved it.
Back to the skatepark, not a lot of people, just homies. I'm actually a 100% sure that they just don't eat the same shit here in Victoriaville, the kids were ripping, and are super nice on the top of that.

Guillaume Lavoie – Crailtail over the door.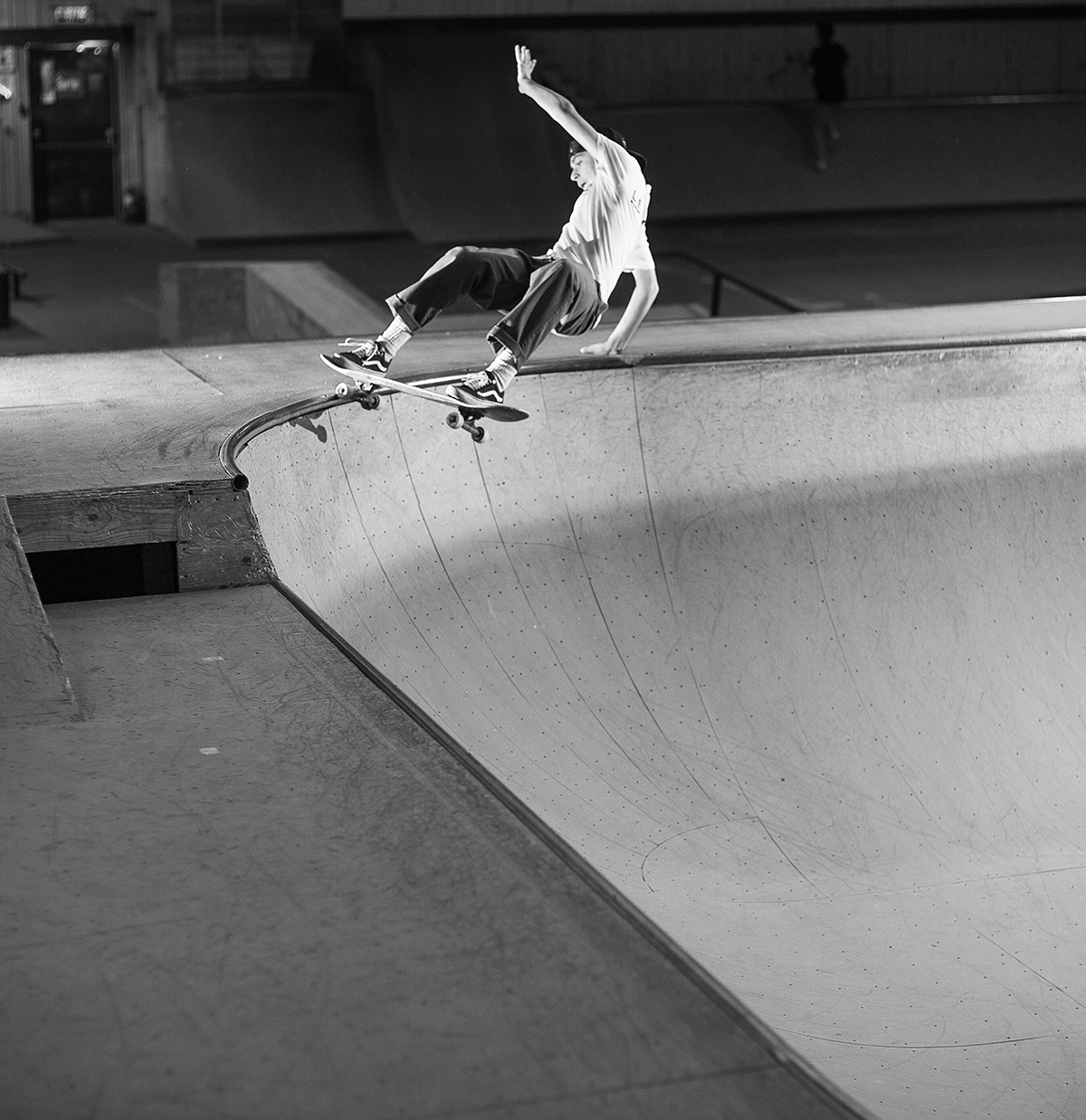 Enrick Perreault – Layback five O.
The kids had a fine of $150 at the hotel after getting busted for smoking weed in the room. Or maybe it's because they tried to invite everybody from the bar up to their room, that gave some clues to the hotel's employees.

Cedrik Vigneault – Frontside Ollie.
Rex started a best trick, and it was at that moment that I shot the most skate pictures in the last 2 days. I don't remember the names of all, but I liked the kid who was in charge of the park, easy going, and ready to go.
After a half hour, we had a winner for the best trick, who actually did many tricks. Well deserved. Rex then launched a poser game with his DSC dice, where for the first time of these 2 days Dart finally skated hard, but came second to Gab with his mystical griptape job.

Enrick Perreault – Cool kid.

Alex Athot – night winner, airwalks always pays off.

Antoine can't win everyday, but he kept the smile.
11pm, we started to watch the PALEOLITIK video all together, like when I used to watch skate videos with my friends when I was a teen, a living room with 25 dudes eyeballs stuck on the screen.
Thanks Alex Blais and his kids for the two fun days! And Ben at the Local, as well as Fred & Joe at TRH bar for hosting us.
Text & Photos by Babas Levrai
www.dscskate.com
www.facebook.com/TrhBar/
www.localskateparc.com
Follow us:
Facebook & Instagram @loveskatemag