Lucas Beaufort is not the kind of guy who listen to the others to pursuit is own dream. It's probably the secret potion for his positive energy.
I spent an afternoon with Lucas talking about his beginning in art, his last years of work, his painting and what he loves in Montreal.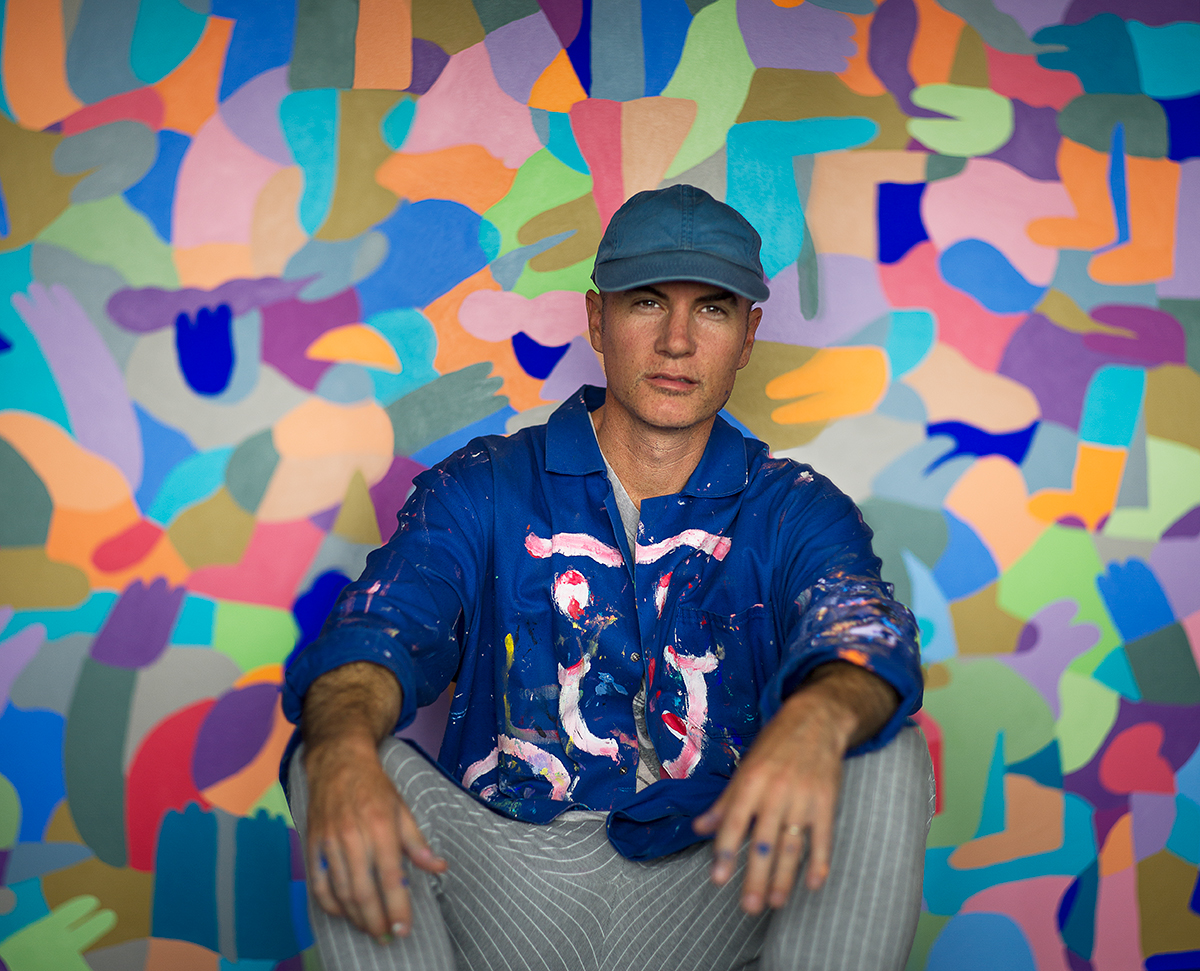 You started selling ads in a French skate magazine, how did you experience this?
Basically, I went to school for marketing and my high school friend, Sebastien Zanella, asked me to come work with him to develop a magazine. In the very beginning, I did not sell ads. He put me in something called «Capsule Creation», and I sold advertising tools like banners, stickers, etc. We made big boards of stickers, with a quarter for the mag and the rest for the customers who paid for our stickers.
The guy who was selling ads, I saw him doing it, and he wanked a lot. I saw him all day on the excel chart, and I did not see too much on the phone. For me it seemed to be a difficult job, because each time he came back like; "It doesn't work, it's difficult."
For me it was the next step, I sell stickers, and then they will put me in ad selling.
The mag was called "Desillusion Mag" which means "disillusion in English, did you have any during this period?
Completely! I had some, especially in the early days, because at the beginning it was trash.
"I brought home the magazine, and I said to my mum "look I have an interview". I showed my mother the dirty pornstar interviews, I'm crazy."
There was a kind of playmate
It was me who was doing the interviews, he offered me that, it was funny. I had a column in the mag, it was me who was interviewing pornstars. When I brought home the magazine, and I said to my mum "look I have an interview". I showed my mother the dirty pornstar interviews, I'm crazy. And my mother, who like all mothers accept what their son does, and said to me, "It's quite good, frankly, but there are still some spelling errors".
The disillusions, I had them at the beginning because the magazine was really badly perceived, and nobody understood us.
When people paid for Desillusion Mag, it was really a disillusion, a real shit! I had it in the beginning, but after that it was blurred because after we went from the stage of "we do not want you" to "we want to work with you".
No skate brands wanted to talk to us, but I had to make cash, so I sold the ad to the local tattoo artist, the butcher from below. The development was crazy.
It's not like this, it's been 10 years that we work with DC, you call them and you take care of that, no I beat the thing. I had the disillusion at the beginning because no one loved us.
How did you start creating your characters?
These characters heave always been with me. I live with them since I was little. They tickled my feet, they scared me, I did not know, I had nightmares scouring. And at 26 years old, I started to painted randomly. I was still working at Desillusion Mag and took care of advertising. One day I drew something and I posted it on Facebook, and the guys in the mag said "damn, you draw? ". People put you in a box, you sell advertising, you can't be an artist.
You don't step out of frame!
Exactly. Initially the guys in the industry told me "what are you doing? It's not for you.'' It takes time to change mentality, and now everyone sees me as an artist.
Not as an ad seller.
Voila! I started very late at 26, and when I made my first shots, all the nightmares I had disappeared slowly. These monsters that I had in mind, they spent 26 years telling me "you have to draw".
It is a very beautiful image! You started this "redo" trend on skateboard mag covers, how did it start?
It was an accident, I am from the generation of the paper magazine. I bought thousands, I spent all my cash in it. I had tons and tons of mags at home. The first time I painted on a cover was because I was bored. I was on my desk, I sent emails to Quicksilver. There was this cover of Vice Magazine.
Who comes originally from Montreal.
Exactly! There was this cover with a big open mouth, only the mouth. I started drawing on it and I loved it. I took the Vice email inside the mag and sent them to me. I received an email 2 days later saying "dude it's really cool, can I share it? Do you want a subscription? ". I answer him yes.
Then I turn around, and I say "oh shit", there are piles and piles of skate mags. That gave me the idea to do it on skate mags, which I did one by one. I was completely unknown, I started drawing before having Instagram. When I started drawing on the skate covers, I had like 300 followers.
One day I got lucky, I always kept sending the redo covers to Transworld, they decided to make me a "shout out". I'll always remember, I was in Utah, and it's like I hit the jackpot, with the cover of Ryan Gallant on the clipper ledge backside kickflip noseblunt. I didn't know that they posted the cover, so I updated and I had 50 more followers, I updated again, 80, I update again, 100. In the evening I had like 4000 followers. Something that no longer exists, even if a 3 million account shouts you out.
"These monsters that I had in mind, they spent 26 years telling me "you have to draw".
You have to be called Will Smith to have 15 million followers in one day.
It did a good job, the other medias saw Transworld do it, so they did the same. This "redo" cover project quickly changed me from a nobody to 20,000 followers, and after, the idea was launched.
That's how I rediscovered that the guy from Desillusion Mag was the one who made the redo covers, I saw the covers pass but I did not make the connection at first.
I had to paint more than 1500.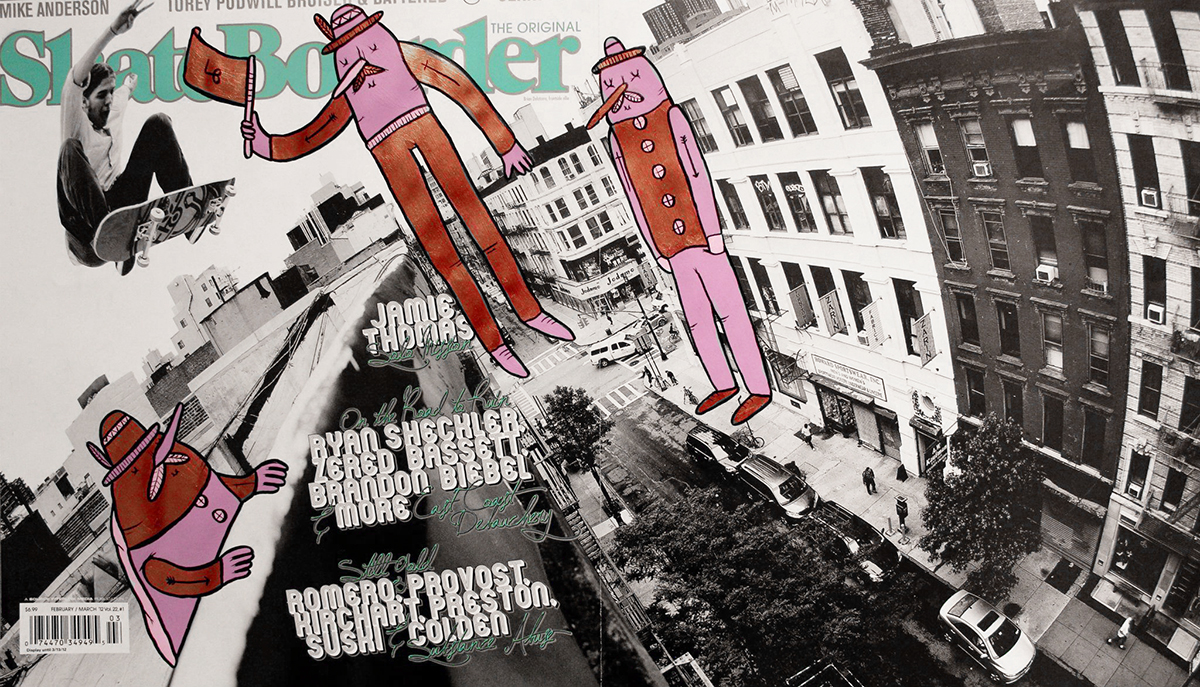 When you painted your covers, did you wait a moment before posting on Instagram?
No, I posted them directly, and I did not earn followers.
Then I posted them on Facebook, and one day a friend asked me if I did not have Instagram, and I told him, it's boring I have to start all over again. I had my facebook with 5000 Followers. And he said yes but it's cool, I told him but I do not want to start again as soon as there is a new social network. It's annoying to start all over again.
But I do it anyway. And today my Facebook around 7000 followers, and Instagram I have 65000 followers. I thank him a lot.
You're a real fan of skate mags, what's your favorite cover?
My favorite cover I painted it, but I think my work did not serve the photo. This is the cover of Blabac, with Eric Koston in backside noseblunt on Hubba Hideout in San Francisco. Which was the cover of the year of all the magazines, by Transworld. It was a special photo issue. I do not remember what I did, but I was not satisfied.
Are you going to do a "redo" of your "redo" cover?
Yes it would be good. It's not my favorite redo cover, but it's my favorite cover.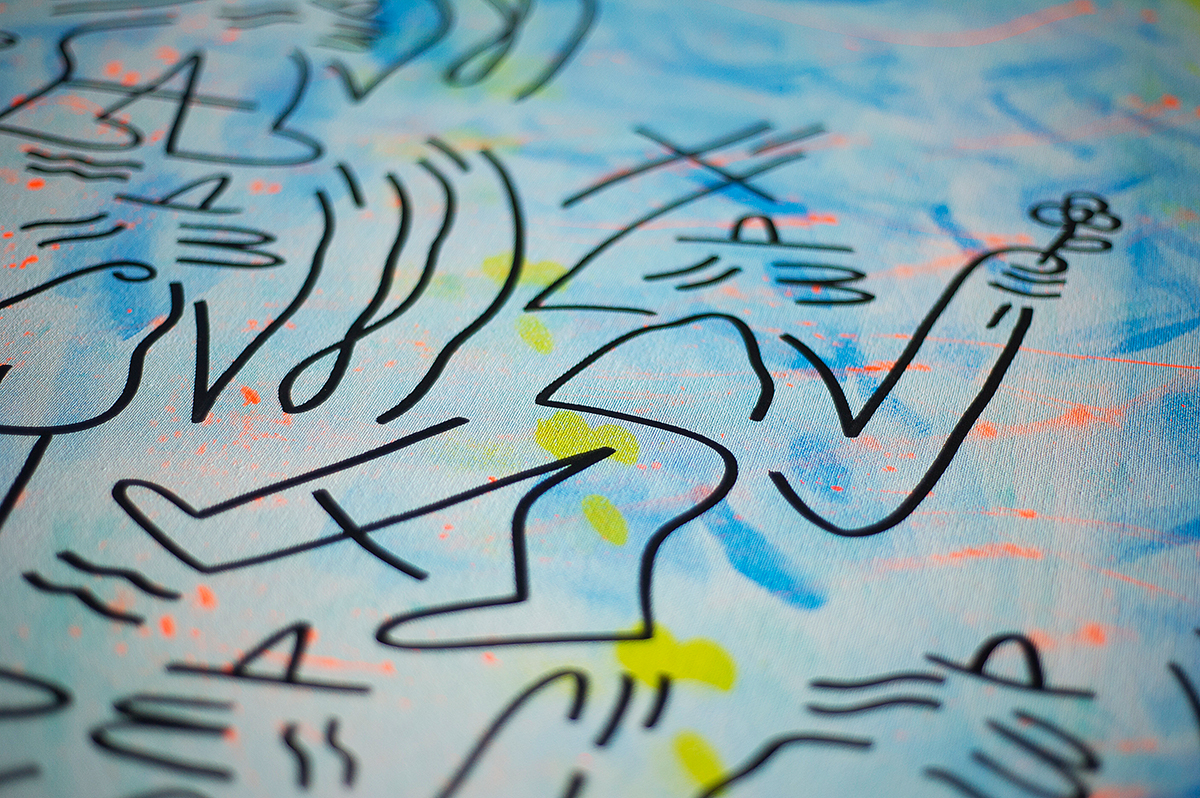 You've produced your excellent skate magazine documentary, approaching some of the most influential people in the industry. How long does the shoot last?
Before talking about how long it took, I received big love for filming. People who write me emails of at least 75 lines.
People understood me, I did it for the love of paper and skateboarding in general. For me it was dream project to meet these people.
It was a bit of an excuse to meet these people, finally.
That was the excuse, I wanted to sit down with Muska, or meet Marc Johnson. I grew up with them, I had Marc Johnson's A-Team when I was little, and I told myself that I would never meet him.
The day I met him, something extraordinary happened with the emotion in the interview, the whole interview was like that.
You never thought these people would accept to do that documentary.
Never, no! But it was too intense. It took me, 2 years, start to end. The idea, the filming and editing. It was a lot of tears.
From you?
Yes from me too, the emotion that I have when I present the film in Los Angeles. I did not make any money to make this movie. I had some money for hotel, and travel, etc. But the wealth that I had on this film, I never had a thing like that.
What I lived, with Giovanni Reda on the back of a rotten truck during Tampa Pro, and with Skin Phillips in Florida, the emotion I had with him.
I do not want to live in the past because I want to make new movies. I started a new movie, it's on stand-by for now, because after Devoted. When you feel that you are light years from what I did, fuck it.
"DEVOTED" – documentary on skateboard media. from The LB Project on Vimeo.
You put it on the shelf and you will come back to it later.
Yes maybe when it will work better. I wanted to do something about kids, and when you talk with kids, they have nothing to say, nothing! I do not want to make a movie of anything. I was hopeless because it's been a year and a half that I'm working on this film called "untamed". I started interviewing kids in Bangkok, it was a disaster.
Did you interview kids randomly?
No, real skaters who were good, between 16 and 18 years old. I had a translator with me. I'd ask him to tell me what it's like to live in Bangkok and the kid says "Yen". I ask the translator what he said. He said "it's cool". After I ask him ''do you want to travel? If you have desires?'' He answers me "Yen", I ask what he said. He said, "It's cool here." What do you want me to do with this? It hurt me because after Devoted, I had more credibility for funding, and I called them to give me nothing, I put it on pause for the moment.
Did you have trouble getting these people to open up to you for this documentary?
We often say "Skateboarding is a family", but I think it's a cake. We do not want to share with everyone, especially when we're in place. You're accepted until you do something that competes, and that's a problem. You realize that it's a business like any other. I see the positive things in skateboarding; it allowed me to travel, it gave me the desire to learn English, it gave the desire to be curious. But when you're unknown, you're not too lucky. This is the truth, you have to prove yourself.
Nobody had the idea to do something about the media, and I arrived at a time when a lot of magazines shut down.
Little by little they listened to me and it was developing, but it was a lot of travels, a lot of abnegation, a lot of motivation. Also I was super happy after the movie came out, people who refused to be interviewed contacted me to tell me a did a good job.
"Frankly it was extreme, I had back pain, I wanted to throw up, I had to do it in 3 days, and I made it to the end. I feel like I'm made for that."
It's a beautiful thing! How was it with Tony Vitello?
Yes, it was complicated with Thrasher. I had all the media agreements for an interview, and I absolutely wanted to have a guy from Thrasher. Burnett did not answer me, then Vitello gave me no news. Finally, I went to San Francisco, and thanks to the guys from Thrasher Park "Double Rock" I met on the spot, I went directly to the Thrasher office with him. I forced my way through the door and asked Tony Vitello to give me 2mins. He told me ''ok, two minutes, do it quickly'', well it lasted 2 hours, he surrendered, he gave a lot. I found him focused in it. He could have told me after 30min he was fed up, but no he was into it. When I left I saw in his eyes that he was serene. When the movie came out, all the media shared it, but I wanted Thrasher to share it too. It took 3.4 days and I know it was Vitello who wrote the 3.4 lines, and that really touched me.
It's one thing to accept to be interviewed, but it's something else to repost it, because we know that Thrasher is picky. They validated the documentary by doing that.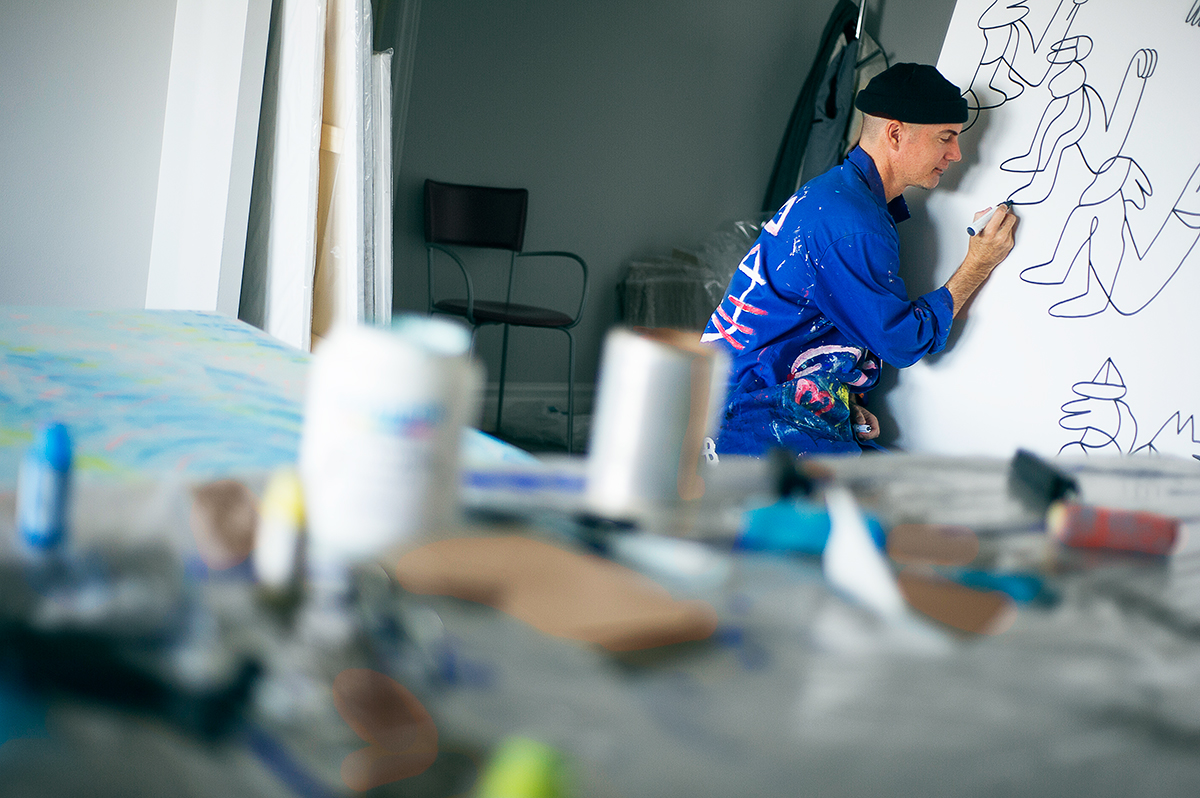 Are there certain people who asked you to see the documentary before the publication?
Yes Dave Carnie for example, he is a guy who has no limits, for me he has no barriers. When I finished the interview, he told me, "people think that I am virulent already, don't encourage that''. Steve Berra too. When I interview people I start slowly, and after I can go to a little harder areas. At one point he said ''what the fuck do you want me to say?'' He had the feeling that I wanted to push him into the dark. I didn't want to make him say anything, I just asked him the question. And at the end of the interview he says to me, ''be careful, I do not want to be negative''. I told him ok.
But I told everyone I would not show them the movie before it was released. It's already hard enough to do it, if you have to re-edit the movie.
Did you censor yourself, or did you put everything you wanted to put?
Frankly I put everything I wanted to put. When you look at Steve Berra in the movie, he says people think that The Berrics is Coca Cola, and they're full of cash, and he says he can barely pay the electricity bills at the end of the month. I may make him look like the ugly duck in the movie. While the one who is extraordinary in the film is Lance Mountain, he says 3 sentences, he makes the film. When he says that out of 10 000 skaters, there are 10 who spend their lives documenting skateboarding, it's them that you have to take care of. And when Jim Thiebault relives the passage of Lance Moutain on his instagram by saying to go see the film, for me it's better than a check of $10,000. A $10,000 check is cool, but you spend it in 3 months in a car or something else, but you'll forget it.
Marc Johnson has left the movie link in his bio for 3.4 months. He wrote me to thank me for showing a sensitive Marc Johnson.
What has changed for you since "Devoted"?
Not so much, I think it's me that changed. The perception I had of the industry, it made me open my eyes to who was interesting or who was not. I do not blame people who are not really interested. Because who I am to say who is interesting or not. I interviewed PJ Ladd, and he's not in the movie. I had trouble making him talk.
Too shy?
Too shy! I do not blame him.
He is not known to be exhuberant.
Some small regrets like that, the hidden side of the industry.
Another disillusion?
Not a disillusion, skateboarding has life to death! But nothing is won in the industry. I have always been hardworking, perseverant. I understand that I do not want it to be easy. This film made me grow. It was an exceptional adventure.
You are in Montreal for 3 weeks, what are you doing here?
I'm a bit of a swiss army knife, there is this gallery "Yves Laroche" in Montreal, who contacted me to make an artistic residence, that is means he leaves me an apartment, for 3 weeks, I do not sleep and I'm barely eating, but it's for the right reasons. I can eat more, but if I want to finish in time I have to work a lot. It is for a project of production of paintings for a gallery which is a reference here. I am very skateboarder, I work with skateboarding brands, and I am less well known in galleries and pure art circles. And for me it's a little way to put my foot in it.
They offered me a huge painting on the Bourse Tower. This is an opportunity for me, there is a canvas of Shepard Fairey up there, 4 metres wide by 2 metres high. He offers me the same canvas, behind. I'm here for that, it's an extreme experience.
How many paintings do you have to do?
I have to do 28 paintings in 17 days, that's 1.6 canvasses a day. It's delirious. But in 2 days I did 6.
Did you hesitate before accepting this challenge?
Not at all! I have not hesitated, I already did hardcore challenges. I painted in a hotel in Bangkok, pillars 26 feet high, 10 feet wide, there were 8 to do. Frankly it was extreme, I had back pain, I wanted to throw up, I had to do it in 3 days, and I made it to the end. I feel like I'm made for that.
I live in the race, it's always like that, I do not know what is boring. When I'm not painting I write for future projects.
It's typical of the passionate.
You're absolutely right.
Tell us about your technique, which you changed when you arrived here.
This canvas without outlines, 10 years ago it would have been impossible. I can see the characters, I see them without the lines, but when I put lines, I see them and the people too. And when I do not put the outline, I have the impression that we do not see the characters, we just see tiles of colours.
It made me think that way, and I was not ready to do it. In life you have to do things because you want to do it, if you do it to please people, you're wrong. But I posted a canvas without the outlines, and I got a lot of feedback. Someone told me that without the outline it's my next step. A second guy, then a third guy, there were a lot of people who told me that. It touches me, but I told them leave me to do what I want to do.
When I came to Montreal, I had 28 paintings to do, I thought it's time to try. I can do at least one or two. I made it, and I am very happy with the result. When you put outlines it has a reassuring side. If you do not put the outlines, we see more imperfections of your thing not well stuck. The outline is really a simple way to make your face, if you do not put it you are naked.
You show what you can create, with your mistakes too.
Exactly, I do not know if I can do it every day.
This is the first one?
It's the first time!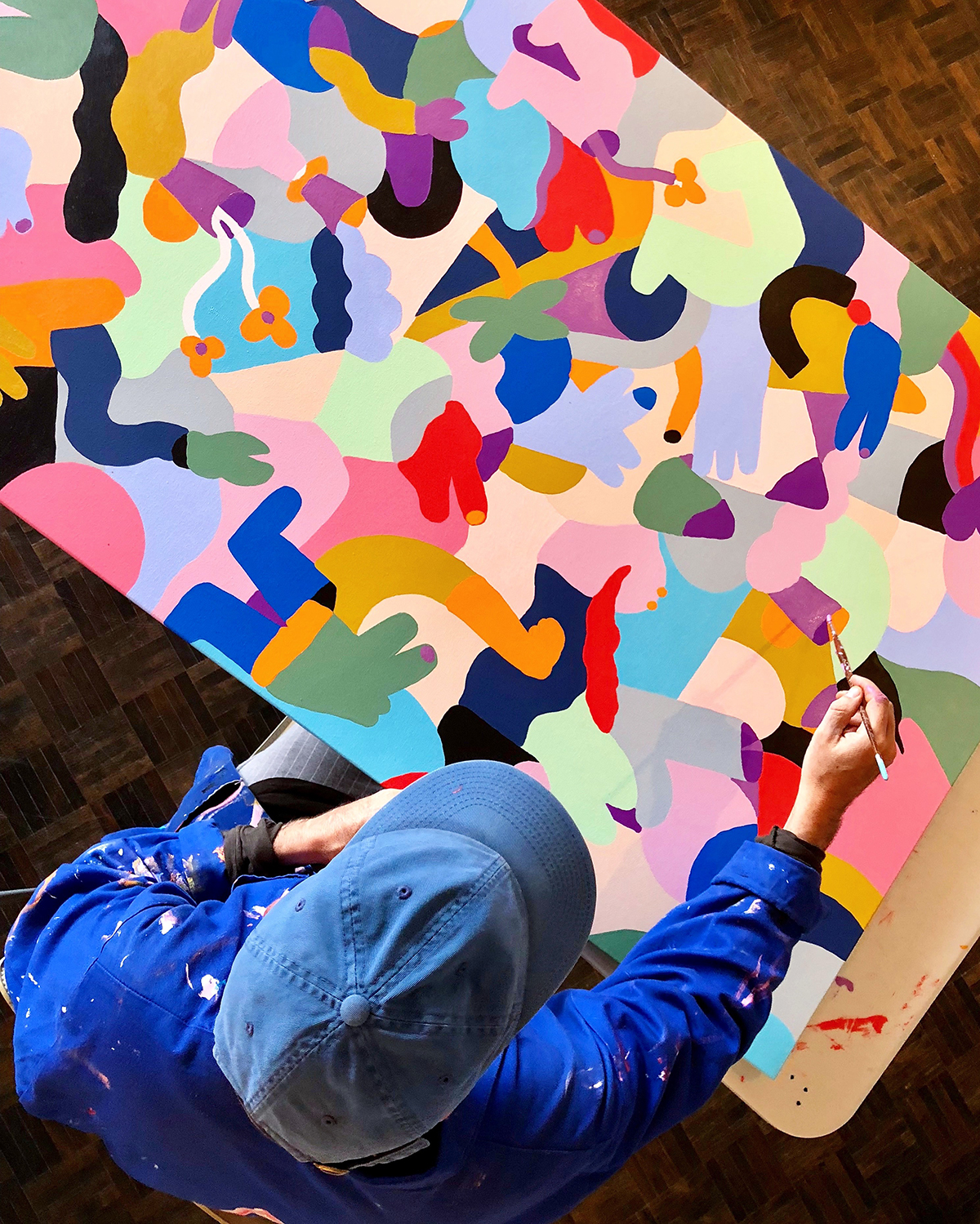 You travel a lot these days, do you manage to live on your art?
Travelling is like a drug, I can not live without it, I need to see something else. When I'm at home, after a month I'm over it, because I do not want to do the same thing. It's a way for me to live, I have a house in the south east of France, but it's been 2 years that I've rented it, it's no more my home. This house is rented by people who make love in my bed.
It's been 2 years that you've been on the road?
Yes! For the financial side I saw better than when I was salaried, it's a dream. Before I became my boss, and responsible for my future, I was scared, because that's the sound you put in your head. We tell you that you are going to crash, it will be uncertain, one day you make $2000, another day you will make $300, they put you in fear. I earn 4 times what I earned as an employee. I think everyone can do it, anyone can live it.
I will say that everyone can do it, but not everyone has the temperament to do it. I take my personal example of my mother who is 60 years old and who does not understand how it works being self-employed, not to have a boss above you, or to do a 9 to 5 all week long. She does not understand how it works to make money other than this way. She has never lived beyond that.
I think you put your finger on something very fair, and I think that there is a reversal of generation, there are plenty of self-taught, there is no real job available. Because it's already taken, or there are horrible competitions. You want to be a brand manager at Adidas, it will be job interviews for 1 year before having it. And at the end of a year, you're sorry, it's a little fun but it's not you!
When I finished with Desillusion Mag, I went to Monster.com to post resumes, after an hour I did it! I sent no CV. I wrote on a sheet of paper what I loved doing in life. I wrote "Travelling, Skateboarding and Art".
I did the LB Project, a traveling exhibition with 15 artists that I loved. I had sponsors right away, who trusted me with Disillusion at the time. I made some money to start my project, and after I did the LB Project 2nd edition in the U.S.A., I got my connection like that, and then I did Devoted.
"We tell you that you are going to crash, it will be uncertain, one day you make $2000 another day you will make $300, they put you in fear."
Finally Desillusion Mag, that rickety boat, served you a lot.
Obviously, I have never hidden! It was the right school to learn, but the school was hard. When it goes bad, the period of lean cows, you know appreciate a T bone.
Do you have artists who inspire you?
Yes, Henry Jones! He is 23 years old, he has 100,000 Followers, we do not care about the followers it's not that which counts, but he posts a drawing with a text, in 10min he has 1500 likes, it's not everybody who can do that .
He just made a children's book with Karl Watson, I thought it was great idea!
It's so good! There is also Elna, the Israeli who skates. He has a crazy universe, I collaborated with him, we did an exhibition in Berlin together.
I see art as a generous work, I'm not afraid to do work with 4 hands, we work together. But it's a world with jealousy, like everywhere, where he tries to pull the blanket over to them and I may be naive, but I want to share the art. You're in New York, I'm coming out, we're doing things together! I realize that there are many artists who are not ready to open their world. They tell themselves that I may be taking customers, or learning secrets. It's jealousy, it's a shame.
I think it's more of distrust than jealousy.
Yes, distrust!
Do you take the time to skate the cities you visit?
It's a good question! I have a phony apology, but I will say it anyway. When I travel I always take lots of stuff. I need to travel with my brushes, and a lot of things because I stay a long time in general. So I put the skate aside, and it penalizes me. So I have no skate, and I do not have much time to skate. And I have my madness, I like to skate my board. Everyone offers me boards, I will use it to cruise, but I will not have fun with it. I do not take my skate because I have no place in my suitcase. So I do not skate a lot. But when I go back to France I always have my turn, and I get back to it. I always have my kickflip good.
What is your essential object on a trip?
My sketchbook!
How would you describe Montreal to someone who would never have come?
Amazing city where everything is possible, culturally genius, which has proved it again and again with the "MURAL" festival. I find it extraordinary. At home in France, they do not do it. In Paris they do not do it either! Maybe in Berlin.
Do you have your spots in Montreal?
The Bagel St Viateur, and a Ramen restaurant that always has an extraordinary line up with 2 entries, I forgot the name tho. Since I've been here I have ate 45 bagels.
Are you rather Bagel Montrealais or New York?
Bagel Montrealais for sure! I prefer Pizza in NewYork.
We have an excellent place for Pizza here, Adamo in St-henri.
Oh, that's a pleasure! I was introduced to the pizza at Napoletana, a family institution. When I saw their pizza, I thought « is this their best pizza? » It's crazy to think that's good.
Adamo is a real Italian family! Your plans for 2018?
It's re-writing my film "Untamed", to see how I can work it. Many trips, many artistic projects, many murals. I was interested in hotels for example. It's really a platform where we could see you a lot. A lot of things happen, people come, eat, etc. I have a book project, which would be a tour of the world through the wildest hotels, in which I would do a mural. And the book will tell the story.
Thank you very much Lucas!
It's a pleasure!
Interview by Babas Levrai / Photo Babas Levrai & Lucas Beaufort