Thursday 27th February will the premiere in Montreal, at the second floor of the TRH Bar, 10pm to Midnight (don't be late). We will also hosting the Big Bill Best Trick on the freshly renovated mini ramp 1000$ cash to win plus a lot of goodies.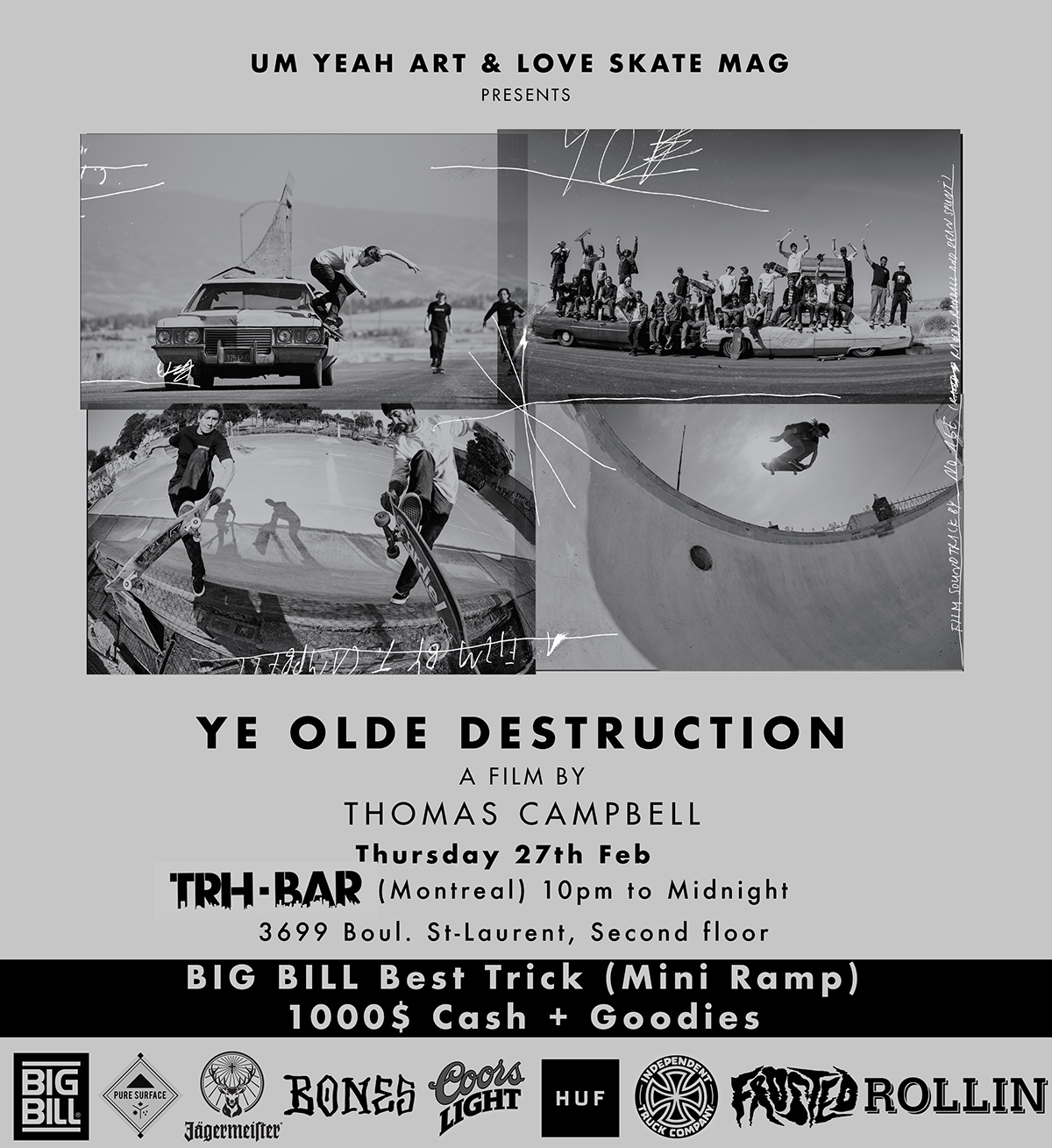 UM YEAH ART & Love Skate mag presentes:
For the last 7 years Artist – Film maker Thomas Campbell has been making a self funded skateboarding movie, mainly shot on a 16mm film — called – Ye Olde Destruction (YOD)…. with a solid grip of land sled aficionados building and skating DIY spots, some street action, pools, and other stuff.
featured YOD skaters ——
Evan Smith, Jon Dickson, Jason Adams, Rick Mccrank, Max Schaaf, Caswell Berry, Brent Atchley, Elissa Steamer, Ray Barbee, Al Partanen, Omar Salazar, Jackson Pilz, Robbie Russo, Ben Raemers, Chris Russell, Willis Kimble, Cody Chapman, Rayne Beres, John Worthington, Emmanuel Guzman, Cole Wilson, Roger Mihalko, Tony Miorana, Aaron Suski, Mark Suciu, Andy Roy, Eli Williams, Israel Forbes, Nick Garcia, Oski Rozenberg ,Barker Barrett, Dennis Buzenitz, Tony Trujillo, Sid Melvin, Zarosh Eggleston, Zach Wallin, Ishod wair, Chico Brenes, Louie Barletta, Collin Provost, Stefan Janoski, Raven Tershy, T Funk, Taylor bingaman. Jeremy Leabres and Grant Taylor.
Thanks to our generous sponsors to make this possible:
@umyeaharts
@trhbar
@bigbillworkwear
@puresurface.ca
@centredist
@independenttrucks
@ultimatedist
@boneswheels
@coorslight
@jagermeister
@boutiquerollin
@supradist
@hufworldwide
@frosted_skateboards