Most of us will go to a skateboarding event, maybe sneak in some beers, or as my friends like to do, a margarita maker, enjoy the festivities and then go on with life as usual.
We're too busy having fun to think about what it actually took to make it happen.
This year, Vans Park Series is officially leaving Vancouver and heading to the East Coast, making Montreal home to their Canadian headquarters, and VPS stop. So we took the opportunity to look at the behind the scenes of what it takes to organize an event like VPS and talk to the unsung heroes that make it all happen.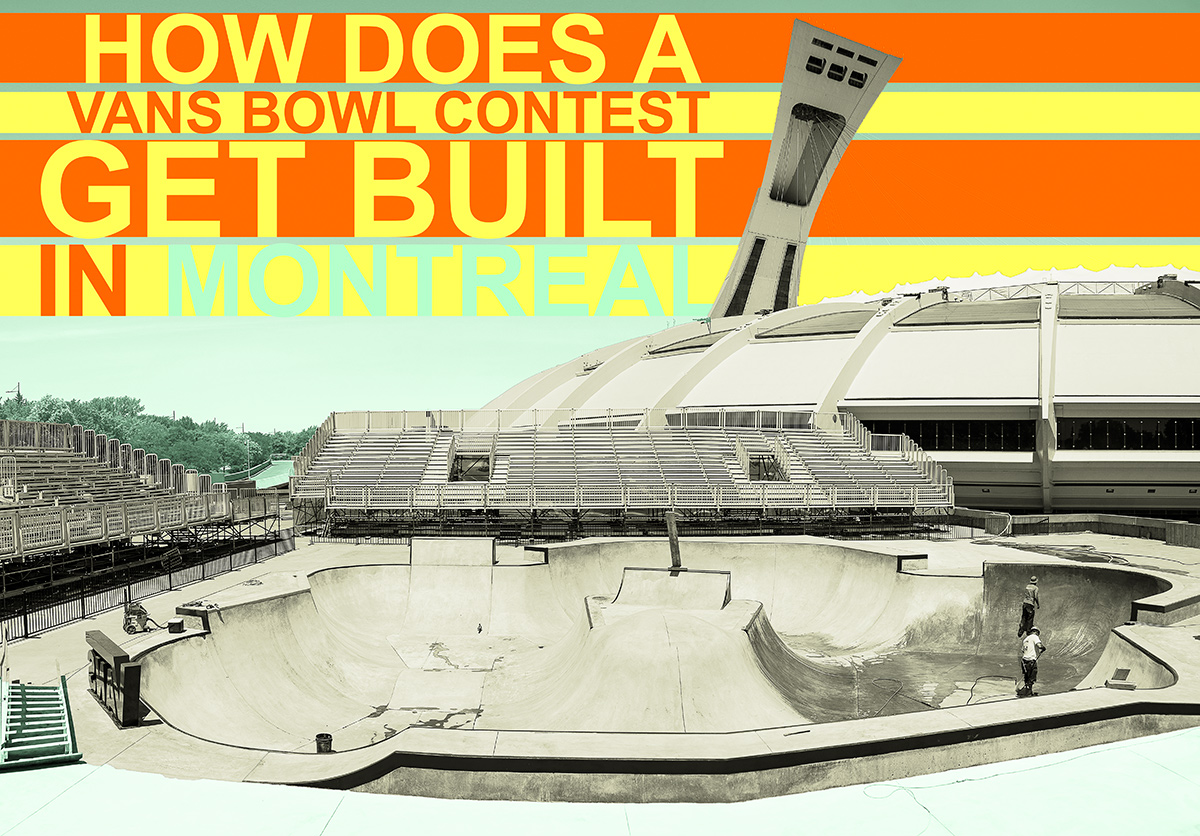 Here's what I learned it takes to put on a skate contest: obscene amounts of vinyl, storytelling metaphors, a lot of bodies, one or two people who actually skate, and a lot of people who don't know what coping is.
Let's start with the obvious: if you're going to host a skate contest, you need something to skate. In this case, we're looking at a bowl contest, which isn't something Montreal is necessarily known for. Luckily, Vans has a lot of money and decided to donate over 38,000 square feet of skate space to the city of Montreal. 
While California Skateparks designed the new legacy bowl, overseeing the actual construction of the project is Montreal's Phil D'Aoust. After two years of discussions, construction finally started in early January with a crew of 15-20 people. D'Aoust, who lead the construction of the Project 45 DIY Skatepark, says the inexperience and lack of skateboarding knowledge on site has been an issue, but expected.
Phil Daoust on field, with the mission to have the best bowl in Montreal.

Here's the thing: in the 1950's, Quebec workers set up a number of unions to better their conditions and keep work opportunities in the province. Fair, but what that means now is that large job sites, like a 38,500 square foot skate space, requires provincial licensed workers. Unfortunately, a lot of the best bowl builders are international, and not necessarily licensed. 
"There are no park builders [on the site]. No skaters," says D'Aoust. "It's hard because from the outside it's just like 'that's just a bowl, it's easy.' But it's all complex math and radius to get the final project that's up to standard. It's hard to work with unskilled workers that don't have a clue."
"At the second week of the build, we got asked by a carpenter 'what's a coping?' That explains the whole thing. His exact words: 'isn't that a rail?'"
A lot of rods, and a lot of concrete. Photo Seb Petit

Despite god knows what other questions might be asked on that site, the construction is going as scheduled and should be ready to skate in time for the contest. But once the prize money is given out and everyone heads to the inevitable afterparty, the bowl is left behind to be enjoyed on any given day. The branding extravaganza that lets everyone know a major contest is happening, however, is taken down and forgotten about. 
Unlike the minimum skate knowledge going on over at the bowl construction, signage and branding for VPS is handled by Blast Media, whose owner Allan Louie has skateboarding in his blood. His father Nick Louie started Timebomb Trading in 1992, and Allan has been working in the industry for 20 years. Over that time, he's realized the most important part of any event is to create an experience. And to do that, branding is everything. 
"Printing and branding is all part of storytelling and the way larger corporations are doing their advertising and marketing today," says Louie. "They're not just putting out ads on television or whatever."
Working for VPS as long as it's been in Canada, Louie knows the ins and outs of what goes into setting up for the event, with planning starting at least six months ahead of time.
Photo Phil Daoust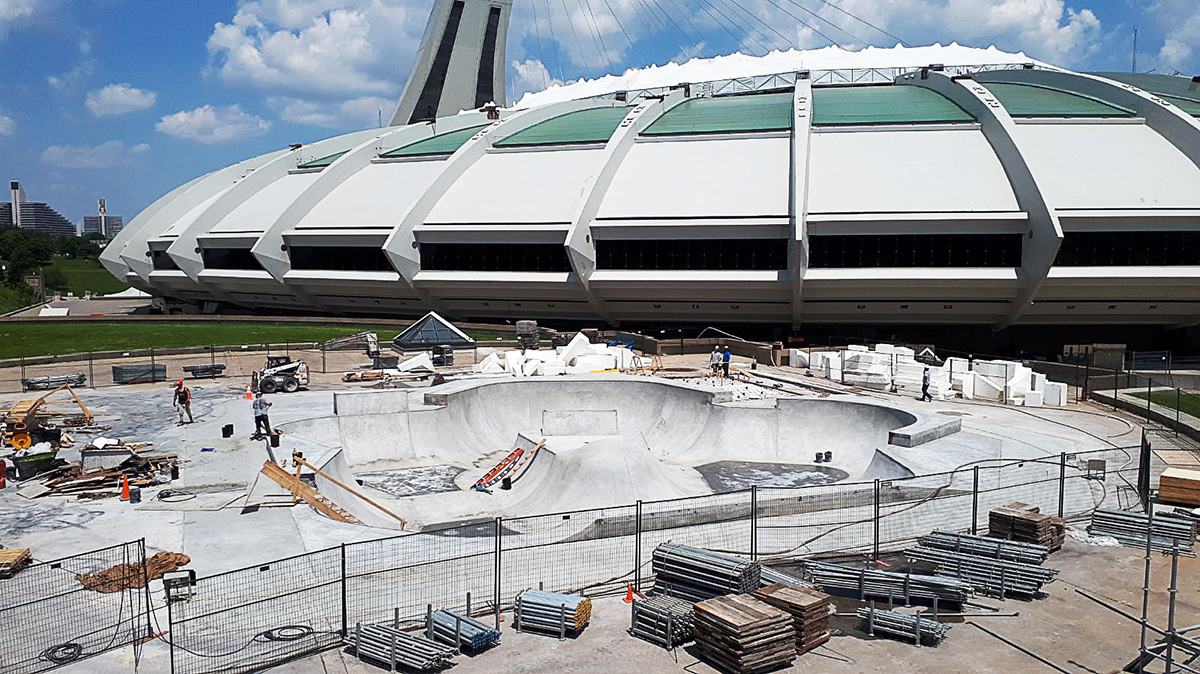 It takes around 12 people and between 12,000 and 15,000 square feet of mesh fence boarding and vinyl to set up the site, from major brand stickers to directions to the port-o-potty's. Though he couldn't share exact numbers, he made it clear "these things are not cheap to put on, that's for sure."
Blast Media can also add plane tickets to their budget, taking "any excuse to come to Montreal in the Summer" to oversee and help project instillation.
"It's great getting to see your products up and then getting to have fun with it as well," says Louie. "I think we're going to see more and more of these events. Like that just seems to be the direction that these massive brands and going into. Making it more about an experience and associating lifestyle with the brands."
Taking on all the little details that create that "experience" doesn't necessarily fall directly onto the brand putting on the event. Not to say they don't do their part, they just have some help. In this case, Vans works with Dizzle Entertainment, whose job is to "take whatever they want to execute and make sure they reach their goals from A to Z," according to co-founder Patryck Bernier.
Basically, they're taking care of everything past marketing and public relations, building that experience the second people see the contest site. Of all the details they oversee from webcasting to budgets and scheduling, Bernier says organizing the event layout, which is passed on to Blast Media, is one of the most important.
"To figure how we're going to display the bleachers, how we're going to make everything fun and creating that ambiance atmosphere. The environmental design is the most fun, for sure," he says.
Et Voila!

Aside from the technical aspects that companies like Dizzle provide, their role is also to make each contest new and exciting, not only for people coming to watch, but for the riders. Without competitors ready to put on a show, you don't have much of a contest. 
"First thing that comes to our mind, always, is that we want that the guys are going to give a show," says Bernier. "So it's the guys that really make it happen to bring all those people down to that event."
From all these perspectives, everyone can agree that the main goal isn't just to put on a good contest, but to get people genuinely stoked to be there, and bring more attention to skateboarding and those who love it. 
While the big boys are on concrete duty, Charles Deschamps & Marc Tison taking of the mini park for the kids.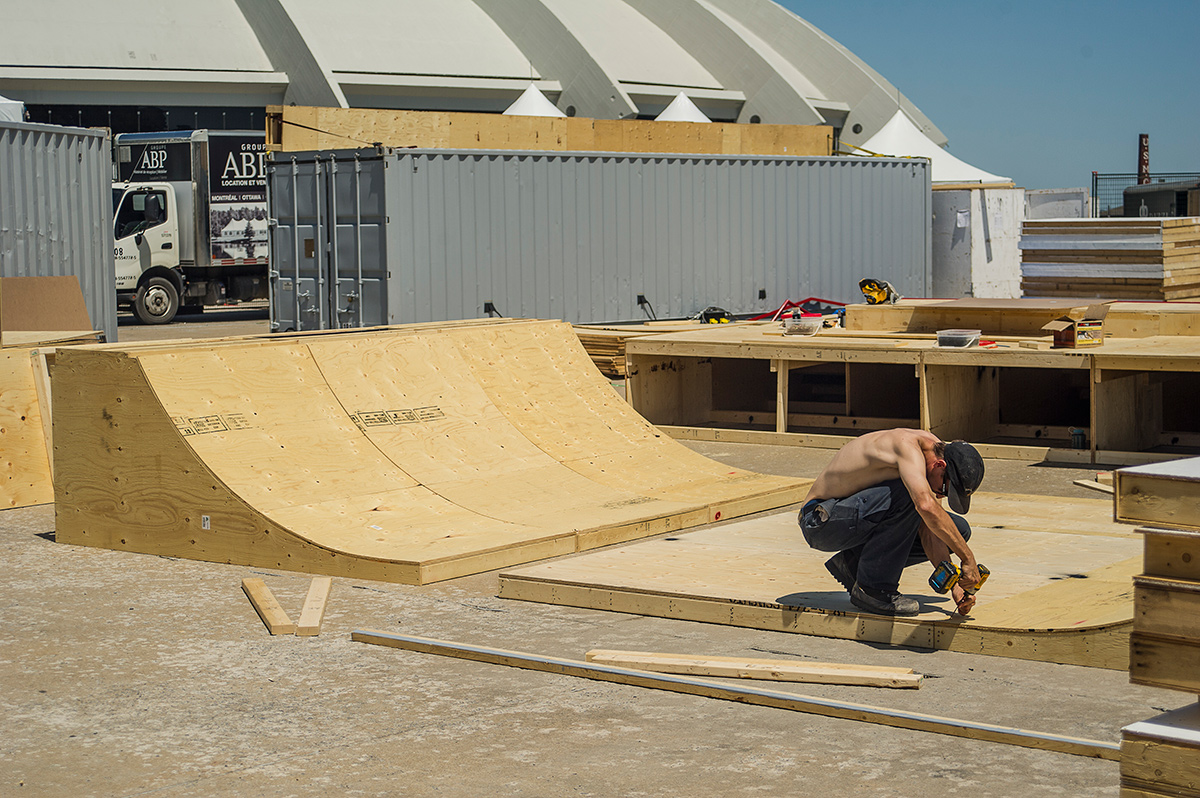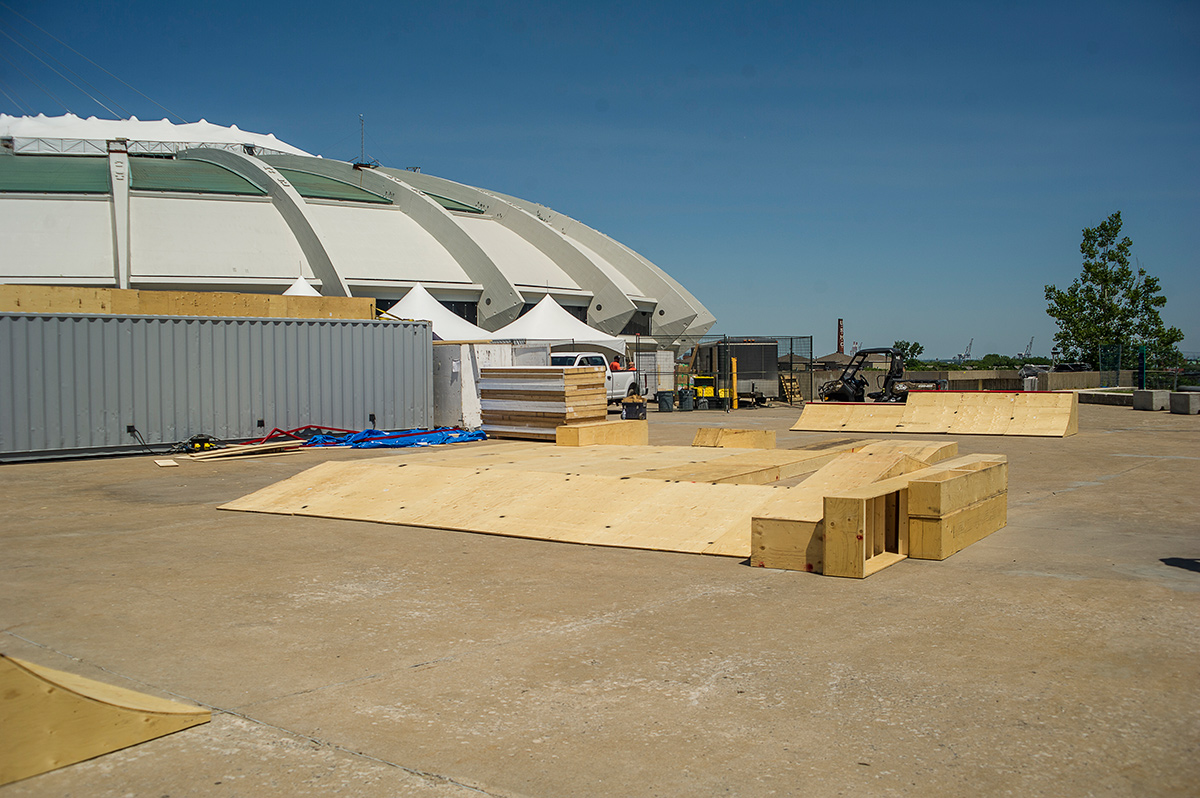 "People will get outside and see something that is really hardcore and underground, but can be at a professional level as far as on site delivery, execution. So it's still cool for the kids that are really core but also the mom and dad," says Bernier.
"We want people to take over and feel at home"Being able to see their work pay off for the general public is great, but everyone's a little selfish. Phil D'Aoust just wants to see his problem child bowl in action. "I'm on the fence of staying and seeing the event and missing a part of my contract in Sweden"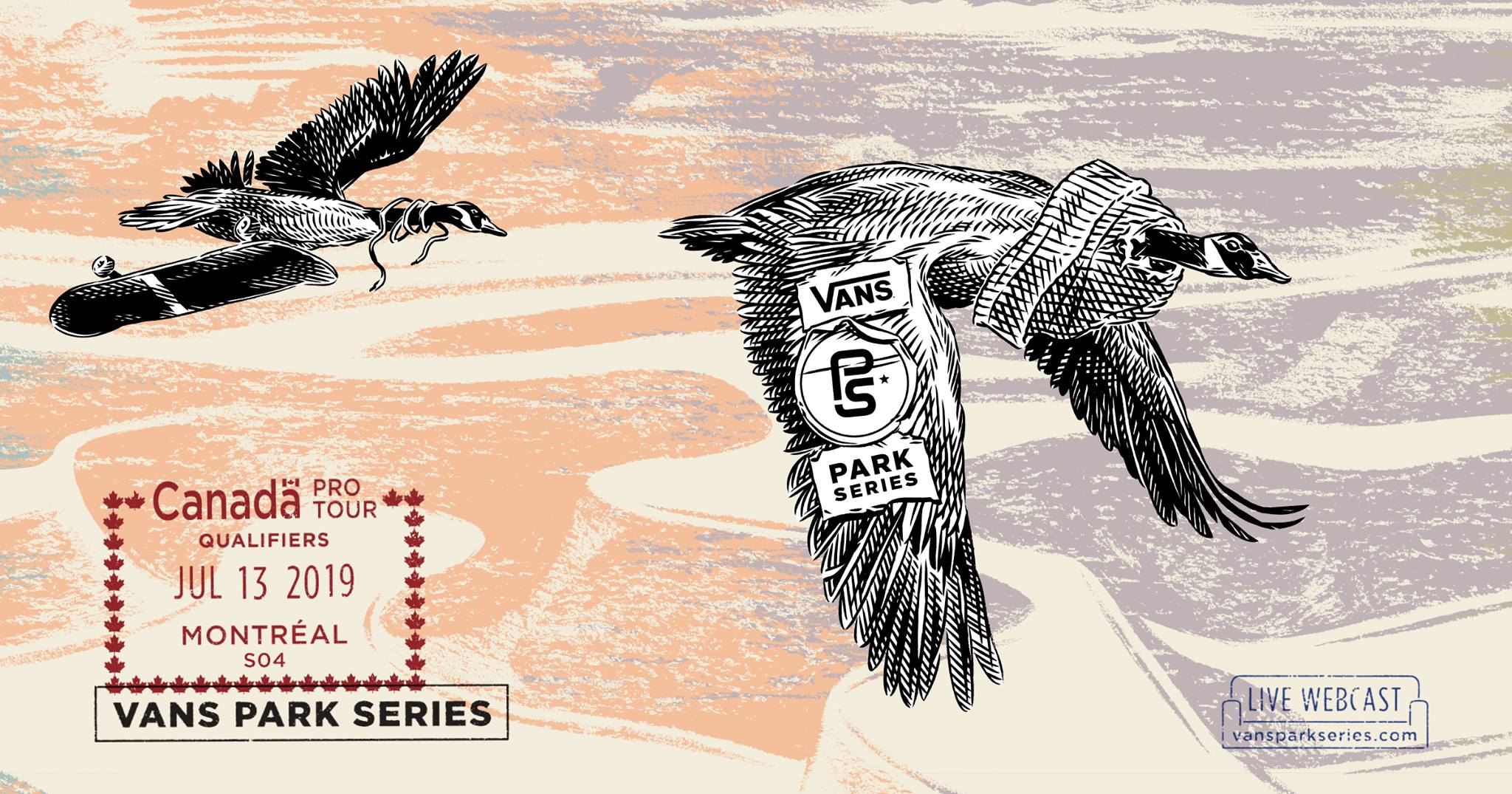 The Vans Park Series 2019 in Montreal, will take place the 12th to 13th July, click here for full information
Words by: Sasha Zeidler
Pictures by: Babas levrai, except mentioned
Follow us: @loveskatemag